About us
Coriander Indian Restaurant is located on Nullum Street, Murwillumbah NSW.
Our menu offers a wide range of Thai specialties such as Tandoori Mushrooms, Spinach Vegetable, Shahi Rajma and many more.
You can order online from us by clicking the ORDER ONLINE button.
We look forward to serving you.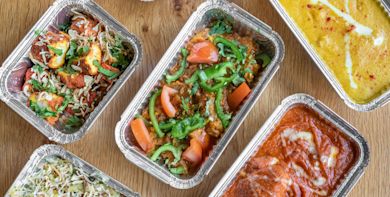 Reviews
26 reviews
Leea
"Wonderful and delicious!"
19/12/2019
Menu
Gulab Jamun
Indian version of warm donuts floating in a syrup
$4.95
Seekh Kebab (Lamb Kebab)
Lamb mince and fresh coriander with a touch of garlic, ginger and lemon, grilled in tandoor
$9.95
Basket of Breads
Garlic naan & cheese naan served with raita & chutney
$11.50
Vegetarian Platter (For 2 Person)
Combination of samosa, vegetable pakora & spring rolls
$11.95
Tandoori Sizzler (For 2 Persons)
Combination of seekh kebab, tandoori chicken, chicken tikka and burra kebab
$22.95
Spring Rolls (6 Pieces)
Home made wrapper filled with stir fried vegetables, served with plain sauce
$4.95
Tandoori Prawns (6 Pieces)
Succulent king prawns marinated in garlic, white papper and lemon juice, grilled in tandoor
$12.95
Paneer Tikka (4 Pieces)
Tender cottage cheese cubes marinated in traditional spices and cooked in clay oven
$9.95
Vegetable Pakora (4 Pieces)
Vegetables dipped in chick pea batter and deep fried
$5.95
Amritsari Fish
Delicious fried traditional north indian dish chef specialty
$12.95
Veggie Samosa (2 Pieces)
True Indian delight pastry filled with potatoes, peas & authentic spices (2 pieces)
$5.95
Tandoori Mushrooms
Mushrooms marinated in traditional spices & grilled in clay oven
$7.95
Chicken Tikka (4 Pieces)
Tender chicken filets marinated in traditional herbs and spices and grilled in clay oven
$10.95
Tandoori Chicken Full
Chicken marinated in yoghurt and spices and cooked in clay oven
$17.95
Tandoori Chicken Half
Chicken marinated in yoghurt and spices and cooked in clay oven
$10.95
Kadai
Dish dry in nature with aroma given by ginger & curry leaves
$15.95
Green Chicken
Classic balance of mint coriander with chef's special spices
$15.95
Fish Masala
Fish curry, any seafood lover would vouch for
$17.95
Madras Specialty
Coconut based yummy south Indian curry
$15.95
Saagwala
Cooked coarsely from ground English spinach, pan-fried with spices
$15.95
Shahi (Must Try !!!)
A mild sauce flavoured with unique spices and a touch of cream
$15.95
Chicken Chattinand
Distinctive cuillnary style cooking from south India
$15.95
Butter Chicken
Succulent chicken pieces grilled in tandoor, simmered in a mild sauce of tomatoes and fenugreek with a dash of cream
$15.95
Mughlai (Our Speciality !!!)
A mild sauce flavoured with unique spices and a touch of cream
$15.95
Rogan Josh
A traditional style lamb curry prepared in herbs and spices, cooked in traditional sauce
$17.95
Mango Chicken
Nice combination of mango and chicken in a curry with traditional spices
$15.95
Lamb Nawabi (Our Speciality !!!)
Tender lamb pieces in a sauce prepared with lamb mince
$18.50
Korma
A very mild aromatic creamy cashew nut based gravy
$15.95
Garlic Prawns (Our Speciality !!!)
Prawns cooked in a creamy garlic based sauce with onions, tomatoes, capsicum & mushrooms finished with green peppercorns
$18.95
Keema Matar (Our Speciality !!!)
Lamb mince & peas cooked in a sauce flavoured with aromatic spices
$17.95
Vindaloo
Spicy east Indian speciality, a "goan" medium to hot curry
$15.95
Chicken Tikka Masala
Grilled chicken tikka pieces sauteed with onions, tomatoes, capsicum and coriander
$15.95
Steamed Basmati Rice
Finest Indian basmati rice garnish with coriander
$2.95
Jeera Rice
Finest Indian basmati rice flavoured with cumin seeds
$4.95
Vegetable Pulao
Basmati rice cooked with fresh vegetable and herbs
$7.95
Saffron Rice
Finest Indian basmati rice flavoured with sultanas and saffron
$4.95
Peas Pulao
Basmati rice cooked with green peas
$5.95
Kashmiri Pulao
A blend of basmati rice nuts, coooked with aromatic spices
$8.95
Biryani
Slow cooked rice with mild spices & flavored with herbs
$10.95
Coconut Rice
Finest Indian basamati rice, with coconut & finished with curry leaves
$5.95
Lentil Soup
Lentil broth prepared with authentic spices
$4.95
Shahi Rajma
Popular Indian vegetarian dish consisting of red kidney beans in thick gravy with many Indian whole spices
$13.95
Dal Makhani
Lentils slowly simmered with ground spices and sauteed with onion and tomatoes
$12.95
Dal Tadka
Lentils tempered with fresh onion, tomato & ginger, garnished with coriander
$12.95
Dal Palak
A combination of yellow lentils and spinach tempered with fresh onion, tomatoes and ginger
$13.95
Spinach Vegetable
Mix vegetable cooked in a spinach sauce with herbs & spices
$13.95
Matar Mushroom
A combination of peas and mushroom cooked in a mild sauce
$13.95
Shahi Paneer (Must Try !!!)
Combination of home made cheese with mild sauce flavored with unique spices and a touch of cream
$14.95
Baingan Bartha
Very flavorful oven roast eggplants mashed with spring onion and tomatoes
$14.95
Vegetable Korma
A very mild and aromatic creamy cashew nut based gravy season with vegetables
$13.95
Paneer Makhani
Home made cottage cheese pieces simmered in a mild sauce of tomatoes and fenugreek with a dash of cream
$14.95
Paneer Mushroom
Cottage cheese pieces & mushrooms simmered in a tangy sauce
$14.95
Navarattan Korma
Garden vegetable & fresh cottage cheese cooked in creamy sauce with nuts
$13.95
Palak Paneer
A combination of spinach and home made cottage cheese cooked with fresh tomatoes and mild spices
$14.95
Paneer Chattinanad
Distinctive culinary style cooking form south India
$14.95
Matar Paneer
Combination of home made cottage cheese and peas cooked in a traditional sauce
$14.95
Bombay Potatoes
Potatoes in a sauce with aromatic spices
$13.95
Paneer Masala
Dish dry in nature with aroma given by ginger & curry leaves
$14.95
Malai Kofta
Vegetable made into balls stuffed with nuts simmered in herb sauce and finished with cream
$14.95
Palak Kofta
Vegetable balls, filled with nuts, simmered in a spinach based sauce
$13.95
Raita
Home made yoghurt with cucumber & flavoured with mild spices
$3.50
Papadum (4 pieces)
Typical Indian crackers, roasted/ fried
$2.50
Cachumber
Flavoured mixture of tomatoes, onion and cucumber
$4.95
Tandoori Prantha
Layered wholemeal bread prepared in clay oven
$3.95
Cheese Naan
Naan bread stuffed with mozzarella & cottage cheese
$3.95
Cheese & Garlic Naan
Bread stuffed with cheese and garlic
$4.95
Pudina Prantha
Flaky bread made form whole meal wheat flour flavoured with mint
$4.95
Keema Naan
Soft bead with lamb minces filling
$4.95
Aloo Kulcha Naan
Plain flour bread stuffed with mashed potatoes & herbs
$4.95
Plain Naan
Fluffy soft bread made from plain flour
$2.50
Peshwari Naan
Sweetbread with dry fruit & nuts
$4.95
Garlic Naan
Fluffy soft bread made from plain flour, flavoured with garlic
$3.00
Roti
Made from wholemeal wheat flour
$2.95
Contact us
Find Us
7 Nullum Street, Murwillumbah, 2484
We deliver to
2484 Bray Park, 2484 Condong, 2484 Eungella, 2484 Murwillumbah